Creative Marketing Concepts
Be Creative. Be Bold. Stand Out.
Creative Marketing Concepts, founded in 1997, is an integrated marketing company offering products and services in five categories - Print, Promotional, Packaging, Presentation, and Premiums. We pride ourselves on our dedicated commitment to - Quality, Service, and Reliability.
Creative Marketing Concepts is all about the "brand". We help you pick the right product, or help you choose the right marketing program, to best keep your brand "Top of Mind" even when your clients are not thinking about you. We can help you determine what the key indicators are of your particular 'brand', and then show you how to best communicate those indicators to your clients and prospects utilizing any or all of the "five P's".
Featured Item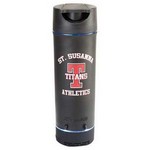 Zoom® Audio Flask
The Zoom® Audio Flask rocks out with an 18 oz. capacity to keep you hydrated. It boasts a removable, light-up, Bluetooth speaker that blasts your favorite soundtrack to keep you motivated and supports...

Signature Showrooms